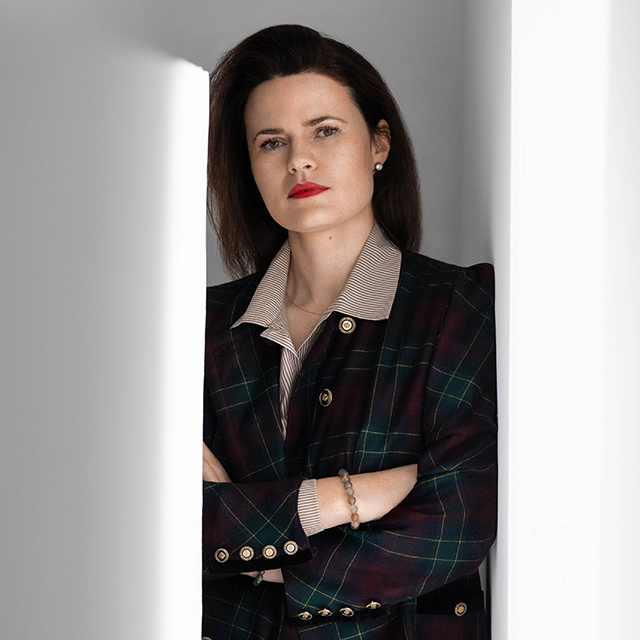 Curator, critic, and art adviser
Neringa Bumblienė
Based in Vilnius, Lithuania
Résidente ACROSS #34
Since 2014, Neringa Bumblienė works as a curator at the Contemporary Art Centre (CAC) in Vilnius, Lithuania.
She has respectively graduated from the Vilnius Academy of Arts with a Master's degree in Curatorial Studies, and from the curatorial school École du Magasin in Grenoble, France. Throughout her career, she has worked on numerous contemporary art projects from large-scale international group exhibitions, such as Head with Many Thoughts and Baltic Triennial 13. Give Up the Ghost to solo presentations of established and emerging artists. Her recent curatorial projects include the following solo exhibitions: The Board by Robertas Narkus at the gallery Vartai in Vilnius (2020); Return by Michael Rakowitz (2020), Tactics & Techniques by Alejandro Cesarco (2019), Phantom by Daniel Steegmann Mangrané (2018), and The Light is no Brighter at the Centre by Liam Gillick (2017), the latter four at the CAC in Vilnius.
Neringa Bumblienė is the Curator of the Pavilion of Lithuania at the 59th Biennale di Venezia with the project Gut Feeling by Robertas Narkus and the Artistic Director of the 1st Vilnius Biennial for Performance Art to be held in 2023.

She is an expert on contemporary art at the Lithuanian Council for Culture, a Board Member of the IKT – International Association of Curators of Contemporary Art and the art fair ArtVilnius.